It is like that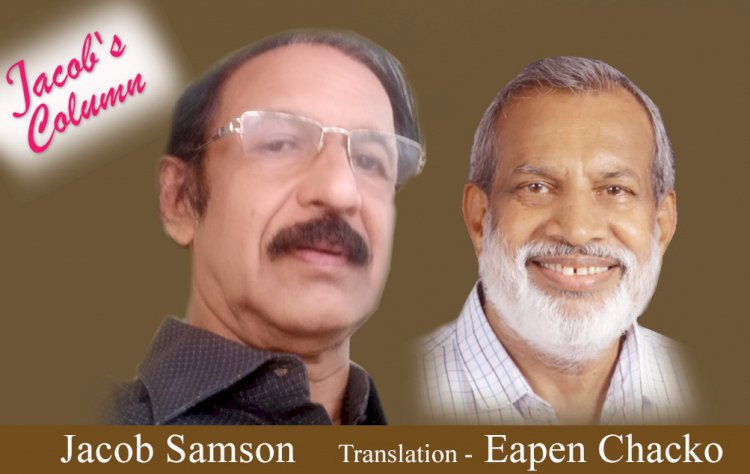 VALSA Varghese is like that.
If you ask what she is like, even she is not sure about it.
Daily she will do some or other trick.
There is an opinion among the teachers that she exhibits such distasteful acts because the institution is a women's college.
What she is planning in her mind nobody can ever imagine. Her behaviour could also be described as a prank. But a girl old enough to be married should behave more seriously. If it is considered madness it could be seen as a kind of madness.
She is always brimming with energy. Sometimes she bets with others. She will surely win by employing some trick. As it was sure that she will be the ultimate winner, others opted out of betting with her. Hence she started announcing difficult and attractive items to entice victims.
Some of them used to participate in the bet. Whoever contested failed miserably and more difficult items were then introduced. Some opined that it was wise to keep away from her tricks.
But Valsa irritated them by saying, "If you are afraid of losing tell it."
"You will certainly fail this time." All said in one voice.
"Then let us go for the bet." All agreed. The amount was also decided.
The date and time were announced.
At the time fixed some of the students came into the staff room, where the teachers sat together, in one or another pretext. As expected
Prof. Mathew John, Associate Prof. Mercy Mathew, Assistant Prof. Premlatha and a few other teachers were present. Mercy Mathew is the wife of Mathew John. Premlatha is the lover of Mathew John, which everyone in the college knews except his wife.
Valsa came to the staff room on time. The bet was that she will embrace and kiss Mathew John while his wife and his lover looked on. Valsa Varghese came wailing loudly. Mercy Madam being more merciful among them enquired the reason for wailing holding her close to herself. She didn't say anything but kept on weeping. So the madam gave her time to calm down.
Mathew John stood up to go saying, "I am going to the class. You may console Valsa.
Suddenly shocking everyone Valsa Varghese embraced Mathew John and pressing her face to his chest she said, "Sir, you should not leave without listening to my grief. You are like my father." Saying this Valsa Varghese repeatedly kissed his chest.
"Don't be disappointed. We are all with you," Mercy Madam comforted her.
Premlatha's eyes glowed like embers. She forcefully separated her from him and kept her close to herself saying, "You are like my daughter. Don't cry Valsa."
All knew that it was a deadly embrace.
"Is this how you express your love? Her eyes are bulging. Let her go," Mercy madam roared.
Immediately after Premlatha loosened her hold Valsa vanished from there with her life.
"She is a very clever one. I will not allow anyone to touch Sir's body. You are so innocent. That is why such things happen," Premlatha said in a firm tone.
Eyeing Premlatha her colleagues said sarcastically, "Madam is very naive as you said."
This one thing became clear to all. Even if the wife could tolerate it, the lover will not.
(Translation of Dr Jacob Samson's Malayalam article 'Athu anganeyanu' by Eapen Chacko)